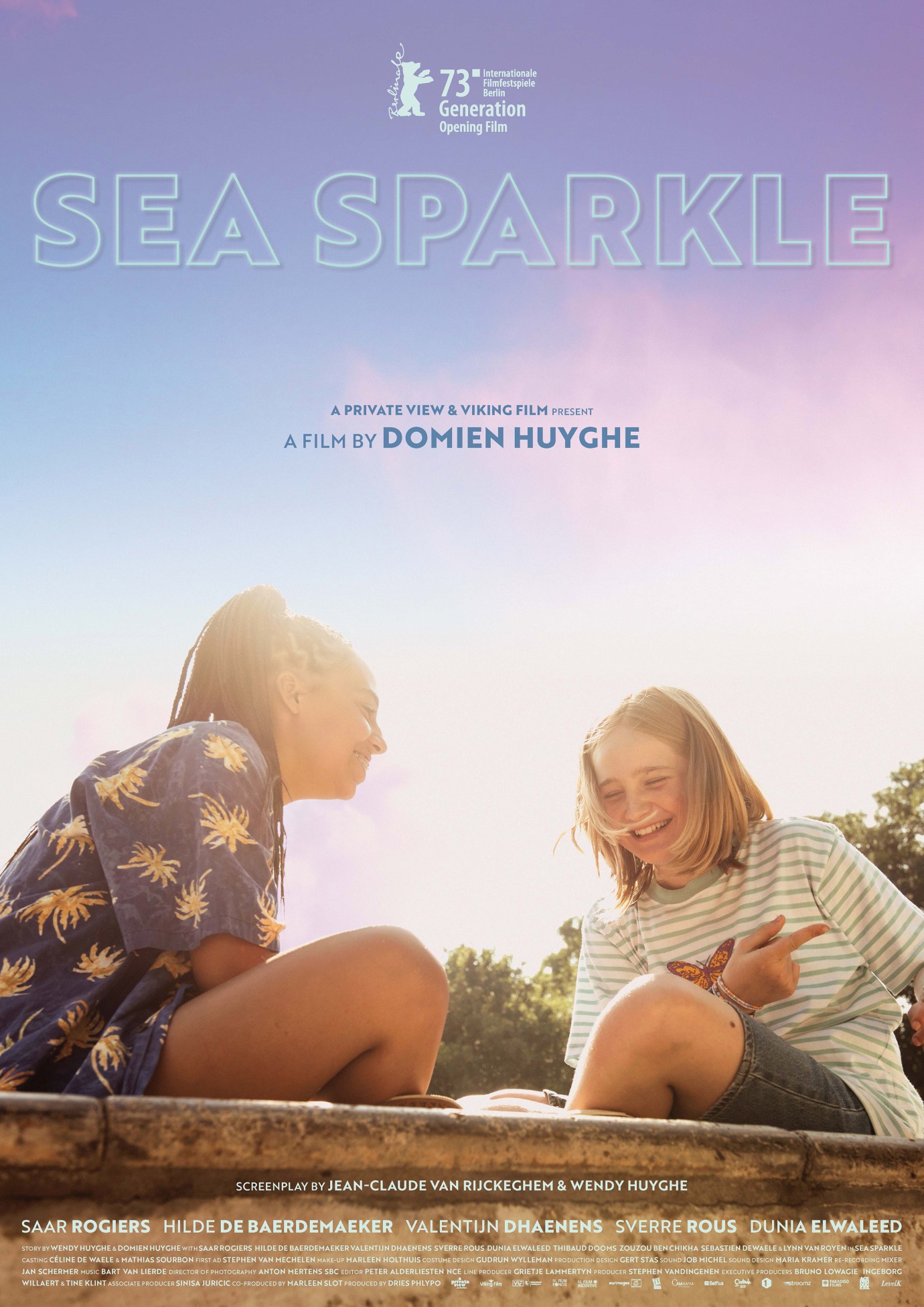 Sea Sparkle ****
Director: Domien Huyghe / Scenario: Wendy Huyghe
Cast: Saar Rogiers, Hilde De Baerdemaeker, Zouzou Ben Chikha, Lynn Van Royen, Valentijn Dhaenens, Dunia Elwaleed, Sverre Rous, Sebastien Dewaele,…
Duration: 98′
Go see if you liked Hotel Beau Sejour S2.
The story: Lena loves the ocean. Battling the wind and waves on her sailing boat, she is as passionate and fearless as her father on his fishing expeditions. But one day, he and the rest of his crew do not return. Some say it was an accident; others say he had been reckless. Lena is sure it could not have been his fault. They must have encountered a gigantic sea creature, causing the boat to capsize. The signs are everywhere: from a shadow in the water, to a large tooth stuck in a piece of driftwood. If only she could find that one, decisive piece of evidence, she could stand up to her family and friends and prove them all wrong. Thus begins a requiem of rage and a tale of letting go and of holding on – to the inexplicable, and to one another.
The setting: The Berlinale is a unique place of artistic exploration and entertainment. It is one of the largest public film festivals in the world, attracting tens of thousands of visitors from around the globe each year. For the film industry and the media, the eleven days in February are also one of the most important events in the annual calendar and an indispensable trading forum. The Berlin International Film Festival enjoys an eventful history. The festival was created for the Berlin public in 1951, at the beginning of the Cold War, as a "showcase of the free world". Shaped by the turbulent post-war period and the unique situation of a divided city, the Berlinale has developed into a place of intercultural exchange and a platform for the critical cinematic exploration of social issues. To this day it is considered the most political of all the major film festivals. The Berlinale brings the big stars of international cinema to Berlin and discovers new talents. It accompanies filmmakers of all disciplines on their paths into the spotlight and supports careers, projects, dreams, and visions. Thanks to its numerous industry initiatives, the Berlinale is a significant driver of innovation and an important economic factor internationally as well as for companies in Germany and Berlin.
Our verdict: The Film Festival Ostend may have been a success with around 50.000 visitors, but in terms of quality it was a bit less with Arcadia, Baghdad Messi & The Chapel having to compete against the strong Zillion, Close & The Eight Mountains from 2022. The Flanders Image-slate seems to be less ambitious in 2023 in terms of director names, with It Melts & Sea Sparkle bringing in a lot of newness that could potentially bring a new wind to the Flemish film landscape. Domien Huyghe is thus given the chance by Flanders Image to make his first feature film based on a screenplay by his sister Wendy Huyghe. A very personal project, given that both of them lost their father at a young age.
Sea Sparkle is a strong European movie in every respect. From the beginning, it takes the viewer by the ears to quickly create an emotional bond with the characters. This is partly due to the tight movie editing, which in combination with a beautiful selection of modern music appealed to us immediately. In addition, we get some great camera work with silhouettes and some tactical neon here & there, making the work for the young protagonist Saar Rogiers a lot easier. She also provides a strong debut, supported by experienced Flemish cast members such as Hilde De Baerdemaeker, Lynn Van Royen, Zouzou Ben Chikha & Valentijn Dhaenens. Then, there is the character of the Belgian coast, because Sea Sparkle is full of beautiful images of our modest but brave Flemish coastline with its mysterious dark North Sea & the city of Ostend as a lighthouse on that coast. With a playing time of around 100 minutes, Sea Sparkle keeps the viewer hooked throughout to repeatedly touch an emotional chord until the very very end. No, Sea Sparkle doesn't want to surf on one of many Instagram-trends, rather it's a strong debut of passion, grief & love that does justice to local European drama.
In short, Sea Sparkle is made out of a passion for the sea & Ostend. Domien Huyghe lays his soul bare to become a Flemish name to look out for. Go and see it!